Install Falcon Anti-Virus
Install Falcon Anti-Virus
macOS Installer
Download the Falcon macOS.zip file found in Google Shared drives > Resources > IT > Software > Anti-Virus MacOS
Double click on the zip file to uncompress the folder
Open the folder and run FalconSensorMacOS.pkg
Continue through the setup and install

If you get an error saying "The installation failed", it means that you already have Falcon installed on your computer. Put in a Helpdesk ticket for resolution.

Open the file FalconCustomerID.txt and copy the contents of the file.
Paste the contents of the file in the "Customer ID with checksum" field. Leave the Installation token field blank.

Click "Setup"

Click "Allow"

Select Allow for System software from application "Falcon" was blocked from loading.

Select Allow for System software from application "Falcon" was blocked from loading.

When prompted, enter your password and click Modify Settings
Click "System Settings"

Select "Privacy & Security - Full Disk Access"

Turn on Full Disk Access for Falcon Sensor
Setup is complete when the sensor is Registered, Operational, and Cloud Connected

The software is now installed, you can close all windows related to the installation
Windows Installer
Download the falcon_windows.zip file found in Google Shared drives > Resources > IT > Software > Anti-Virus MacOS
Right click on the zip file and select Extract All... to unzip the folder
Open the folder and run WindowsSensor.exe
Enter in the Customer ID with checksum found in FalconCustomerID.txt and accept the license agreement and privacy notice. Leave the Installation token field blank.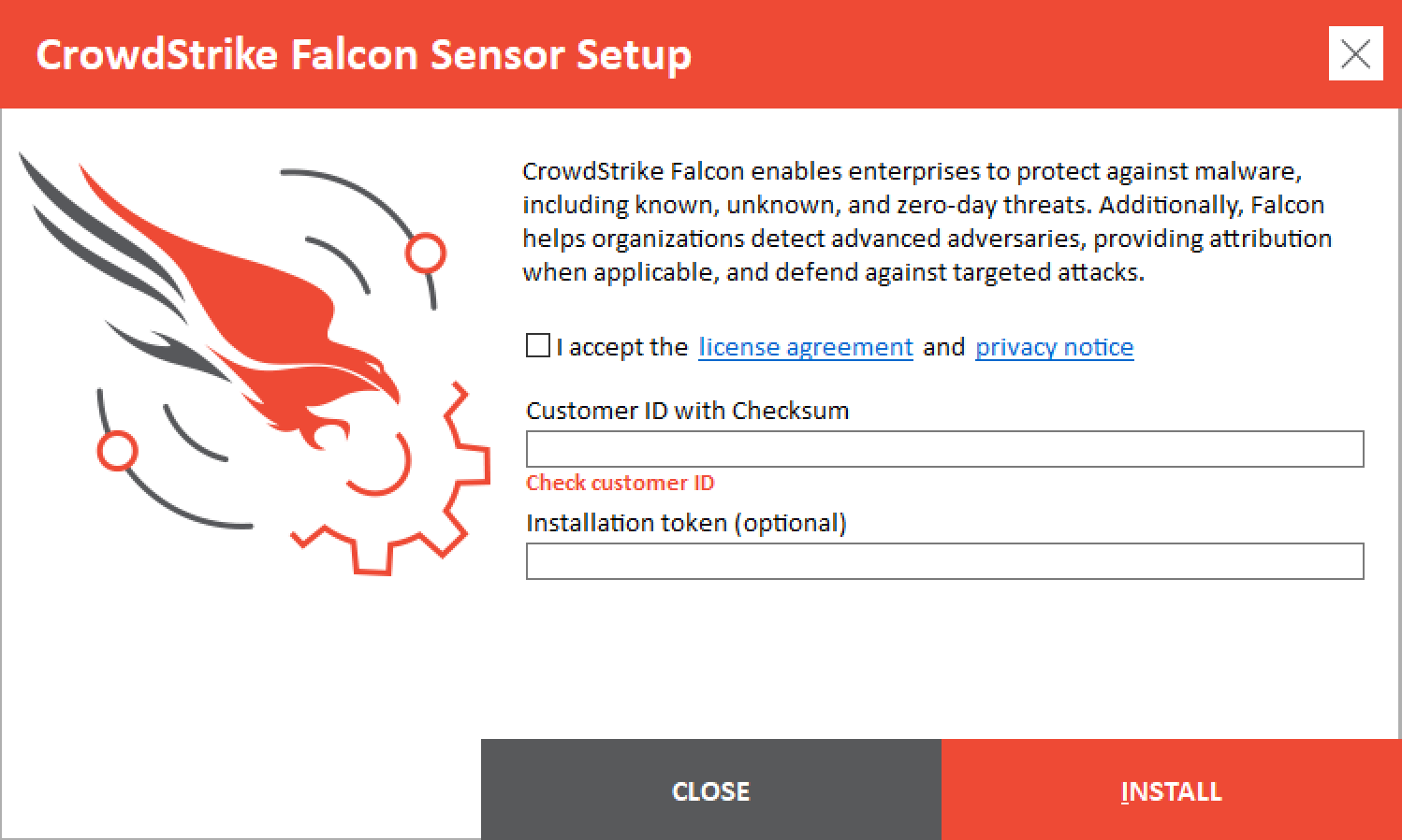 Click INSTALL
Click CLOSE once the installer has completed
Still need help? Submit a ticket.