Voicemail greeting
Dial *97#
Press 0
Press 1 to record your greeting
Press # when finished recording
Options:

Press 1 to accept your greeting
Press 2 to listen to your recorded greeting
Press 3 to re-record your greeting
Voicemail notification email
The phone system FreePBX will send an email directly to the receiver after the caller has left a message. Appended to this email is a .wav file containing the voicemail recording. The image below shows an example of a New Voicemail email sent from freepbx.bigelow.org: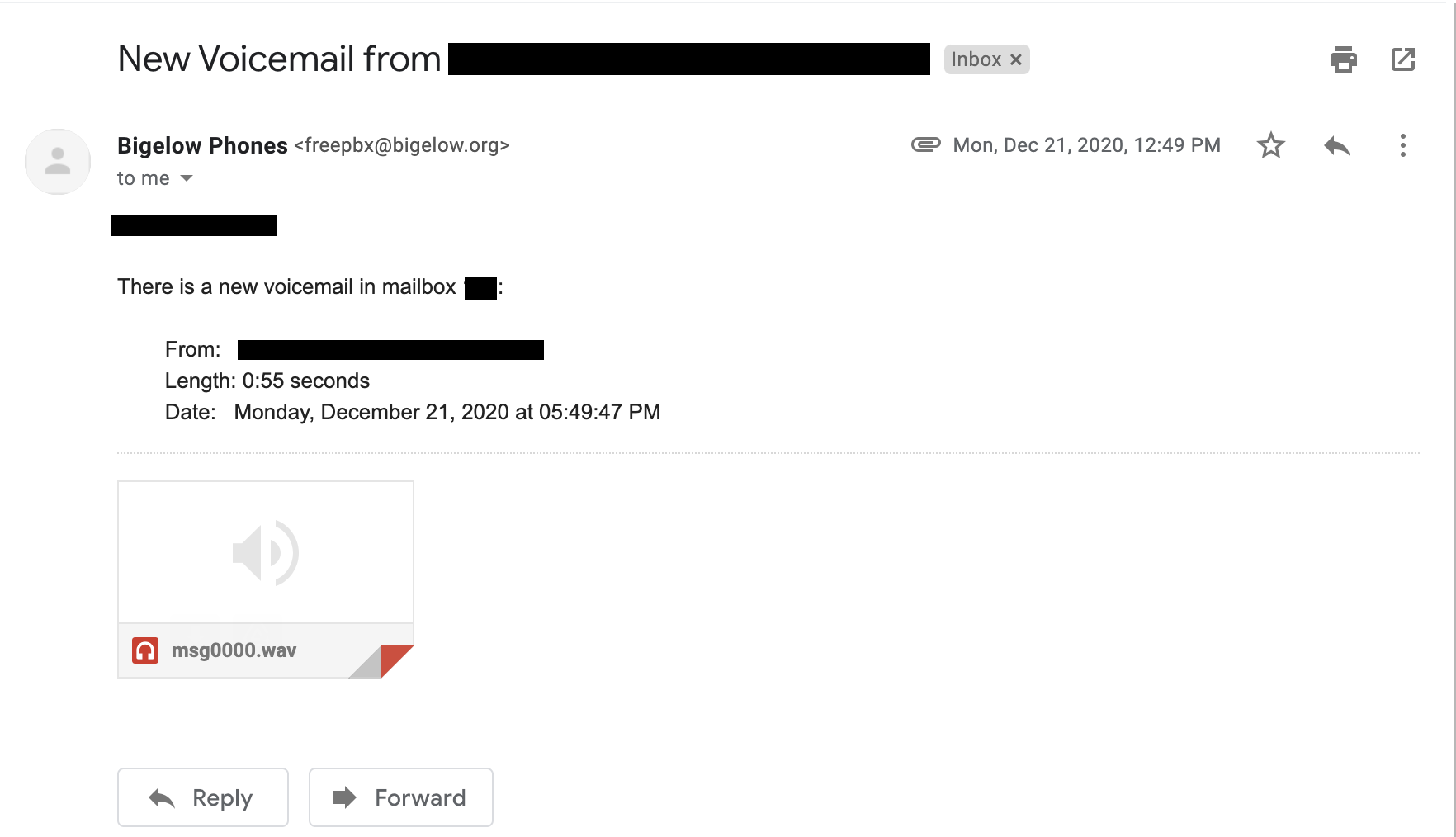 Reset phone
Press Menu on the phone
Press the down arrow key to get to Settings and then press the check mark key on the phone
Scroll down to Advanced and press the checkmark key
Password: 222222
Press Enter
Admin settings and press the checkmark key 
Go down to reset to Defaults and press the checkmark key
Go down to Reset to Factory and press the checkmark key
Press Yes (it will hang for a minute before restarting.. this is normal)
Feature codes
The following is a list of codes you can dial on your desk phone to activate/deactivate different features. To use, dial the code for the appropriate feature and then follow the voice prompts (if any):
*30 - Blacklist a number
*32 - Blacklist the last caller
*31 - Remove a number from the blacklist
*73 - Call Forward All Deactivate
*52 - Call Forward No Answer/Unavailable Activate
*78 - DND (Do Not Disturb) Activate
*79 - DND Deactivate
*76 - DND Toggle
*75 - Set user speed dial
*0 - Speeddial prefix
Still need help? Submit a ticket.